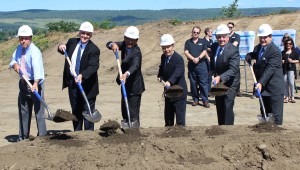 Itoh Denki USA, a developer of motorized rollers and components, has broken ground on a new U.S. sales and manufacturing headquarters on an 18.81 acre parcel in the Hanover Crossings Business Park, Hanover Township.
The company expects to move into the 46,000 square foot facility on Great Valley Boulevard in the first quarter of 2016. Itoh Denki USA will relocate from smaller space it leases from Mericle Commercial Real Estate Services on Stewart Road in Hanover Industrial Estates. Mericle is also constructing the new building.
The project will retain 21 jobs and Itoh Denki USA expects to create 8 to 10 additional jobs over the next few years.
"Our U.S. factory manufacturers the Itoh Power Moller products for the North and South American markets," said Richard Kosik, President of Itoh Denki USA. "We are very pleased that Itoh Denki Japan approved the land purchase and factory construction for Hanover Crossings. This location provides the ease of access for the international air cargo shipments of components into the New York City airports, in addition to using the New York area Ports for our ocean freight. Interstates 81 and 80 provide quick deliveries to our customers who are mostly located in the Northeast US."
"Working with Mericle Commercial we were able to locate a premier building site very near our current location," added Kosik. "This will allow us to retain our current workforce, which is important since many workers average over 10 years with the company".
Itoh Denki USA was founded in 1996 in order to meet the growing demand for motorized conveyor rollers from U.S. businesses. Itoh Denki USA is a division of Itoh Denki Co., Ltd. of Kasai, Japan.  
Itoh Denki Co., Ltd. was founded in Japan in 1946. The company started out as a small shop repairing conventional motors and soldering tools and then expanded into the design and sale of its own electric motors. In 1975, Itoh Denki Co., Ltd. developed the motorized conveyor roller. It consisted of a standard conveyor roller tube with a company-developed electric motor and gear set inside. These first products were AC powered. Throughout the years the company continued to manufacture AC powered rollers but also added a more economical and powerful 24V DC powered product line named the Power Moller 24®.
This history of R&D and manufacturing has provided Itoh Denki USA the foundation to build a 70% market share.
"The 24v DC Power Moller is a safe, quiet and energy savings alternative to traditional conveyor technologies," said Kosik. "Because of these features, we have gained acceptance in the latest high tech distribution and automation systems. With recent advances in our controllers, the Itoh Power Moller is now being directly interfaced with upper level control networks. This new factory will give us a 50% increase in production capacity which will allow us to meet the continuing trend toward robotics and automation."
Mericle Vice President Jim Hilsher is coordinating the expansion project. Hilsher has worked with Itoh Denki since 1996 when the company first became a tenant in the Mericle flex building at 155 Stewart Road. He said the company expanded several times within the building and has finally reached the point where it needs to move into its own facility.
Hilsher said Mericle began site work on the parcel in June as part of the company's ReadyToGo!™ Program, an initiative to fully prepare sites in advance of building construction.  While site work was underway, Mericle and Itoh Denki reached agreement on the construction of the new facility.
Hilsher thanked the Hanover Township Commissioners for their cooperation in providing all of the approvals necessary to keep the project on schedule.
"This expansion is great news for the company and Northeastern Pennsylvania," said Wico van Genderen, CEO of the Greater Wilkes-Barre Chamber of Commerce.  "The fact that an international company of Itoh Denki's stature opened its U.S. headquarters in Hanover Township and continues to grow, speaks volumes about this area's viability as a world class manufacturing location.  This area is a great place to do business and we are hoping that more global manufacturing companies follow Itoh Denki's lead."
This will be the 27th building Mericle has developed in Hanover Crossings Business Park and the adjacent Hanover Industrial Estates. Mericle's buildings in the two parks total more than 2.6 million square feet and are home to more than 2,500 workers.