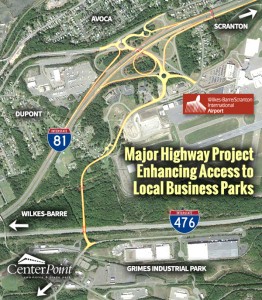 Construction is well underway on an estimated $51.4 million project, which will improve access to the Wilkes-Barre/Scranton International Airport and several local business parks.
PennDOT began construction in mid-2013 and work is expected to last through 2015.
Part of the project calls for the construction of a .85-mile access road from the existing airport entrance off I-81, over I-476, and connecting to Commerce Boulevard in Grimes Industrial Park, giving trucks better access to the interstate.
Adjacent parks such as O'Hara Industrial Park and Mericle's fast-growing CenterPoint Commerce & Trade Park will also benefit from the project. Upon completion, the three parks will have two very convenient access points to I-81.
"Having a wide variety of real estate offerings is critical to recruiting companies and creating and retaining jobs," said Mericle Vice President of Marketing Jim Cummings.  "Companies often call us because they've found an available property within our portfolio that they think will work for them.  In most cases however, they need to be convinced of two things before they're willing to move into a Mericle building – how quickly can they access the interstate system and can they attract quality workers there." 
"Companies like CenterPoint and Grimes Industrial Park because the parks are in the middle of the labor market and are equidistant to Scranton and Wilkes-Barre," Cummings said.  "More than 470,000 people live within 20 miles, which really helps companies draw employees."
"We need to make sure we don't become victims of our own success, however," he said.  "Highway access to the business parks at Exit 175 of I-81 has been excellent to date, which has led to major investments by dozens of companies.  We estimate that 9,000 people work off of Exit 175 including about 4,500 in CenterPoint alone.   The new $51 million road project will go a long way to ensuring that highway access stays excellent long into the future, which will no doubt lead to the creation of thousands of additional jobs."