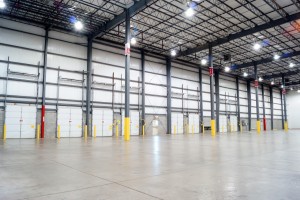 Women's Distribution Services (WDS), a storage and distribution company headquartered in Lake Wylie, South Carolina, has leased 88,140 square feet of industrial space from Mericle Commercial Real Estate Services in Humboldt Industrial Park, Hazle Township, Luzerne County. The space includes 21,910 square feet Mericle is adding to the building to accommodate the company's growth. The project was announced by Mericle President and CEO Robert Mericle.
WDS will use the space at 575 Oak Ridge Road to provide warehousing, distribution, and inventory management services to its customers.
"WDS is very excited about expanding its storage and distribution hub in Hazleton," said company chief operating officer Shawn Bush. "I foresee the added capacity to increase product depths offered and to expand our concentration to a wider area in the Northeast."
Mericle Vice President Jim Hilsher coordinated the real estate transaction along with Steve Cole from the real estate brokerage firm NAI Mertz of Plains Township. Hilsher said the company began operations in the building in August. He said the expansion is set to be finished by the first quarter of 2016.
"We are glad we had workable space in close proximity to WDS," said Hilsher. The project will help the company retain and create jobs and provide for future growth."
WDS turned to Mericle for more space after outgrowing its current facility in Humboldt Industrial Park.
The company serves clients in the food processing, medical, and technology industries with 22 locations across the United States and Canada. Numerous Fortune 500 companies are WDS customers.
The company offers in-house supply chain manufacturing and engineering processes that help customers increase productivity and efficiency. WDS also offers process improvement solutions and audit compliance. To learn more about the company, visit http://womends.com/about-us/.
CAN DO President Kevin O'Donnell said the agency is excited to have WDS located in Humboldt Industrial Park and recognized the important role Mericle Commercial Real Estate Services has played in the growth of the industrial park. "Mericle Commercial Real Estate Services has been a great partner
over the years in helping to bring jobs and new opportunities to Greater Hazleton," he said. "They have played a role in many of the large projects that have taken place here over the years," O'Donnell said.
Mericle has developed 12 buildings totaling more than 4.3 million square feet in Humboldt Industrial Park. Mericle's tenants and clients in Humboldt include Amazon.com, Michael's Handcrafts, Econoco, Nature's Bounty, Freedom Corrugated, E&B Giftware, Tech Packaging, American Environmental Outfitters, and Simmons. More than 13,400 people work in the approximately 18 million square feet of commercial space Mericle has developed in Northeastern Pennsylvania. For more information, visit www.mericle.com.