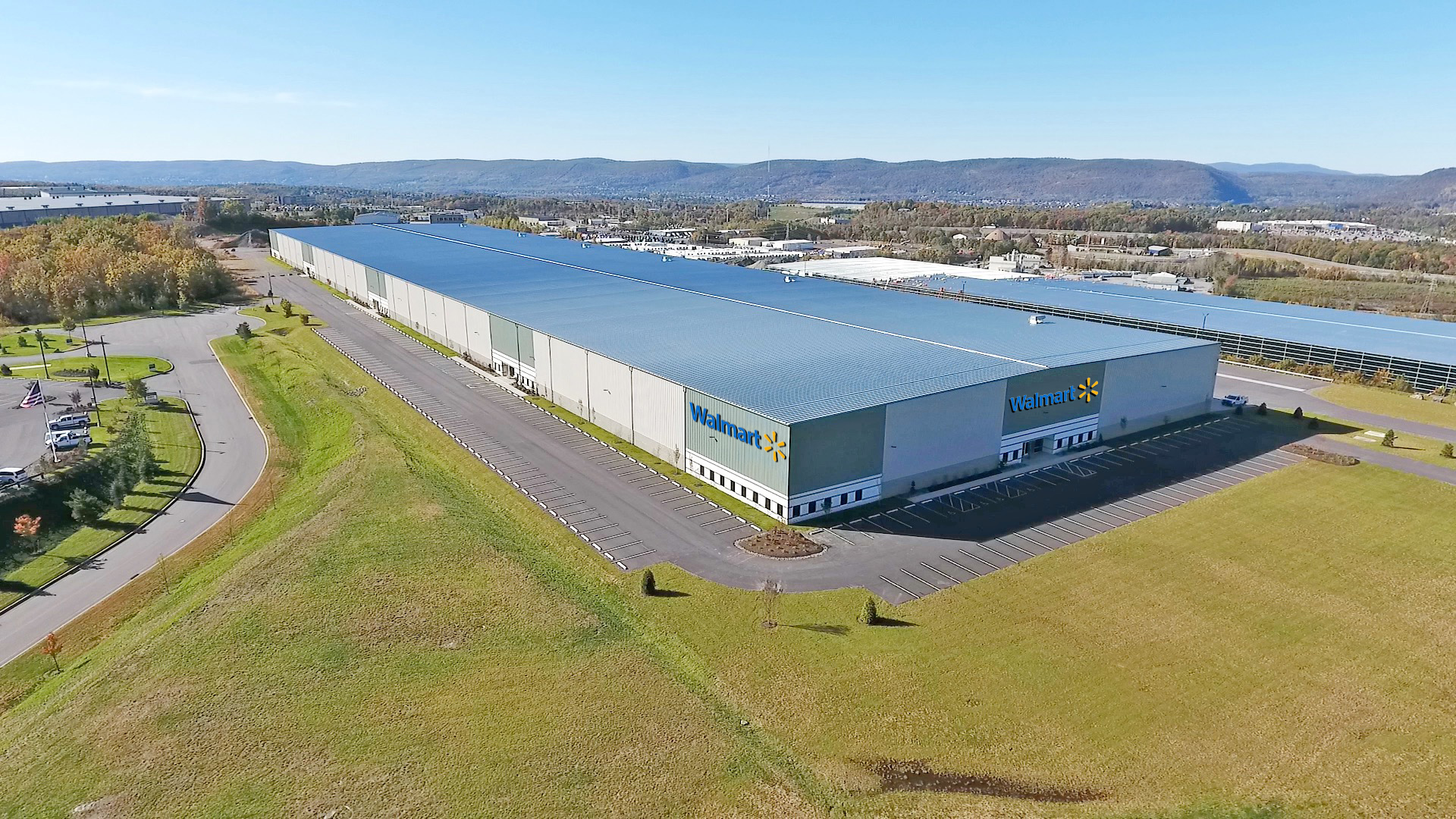 The post-COVID 19 world is expected to see substantial growth in e-commerce and increased demand for strategically located bulk industrial, e-commerce fulfillment, and last mile space.
Mericle hopes Walmart will utilize Mericle Commercial Real Estate Services as a trusted resource should you be in need of space along Pennsylvania's northern I-81 Corridor.
We are pleased to present to you 10 reasons why we think a Mericle building in Northeastern Pennsylvania (NEPA) will be the right fit for your company.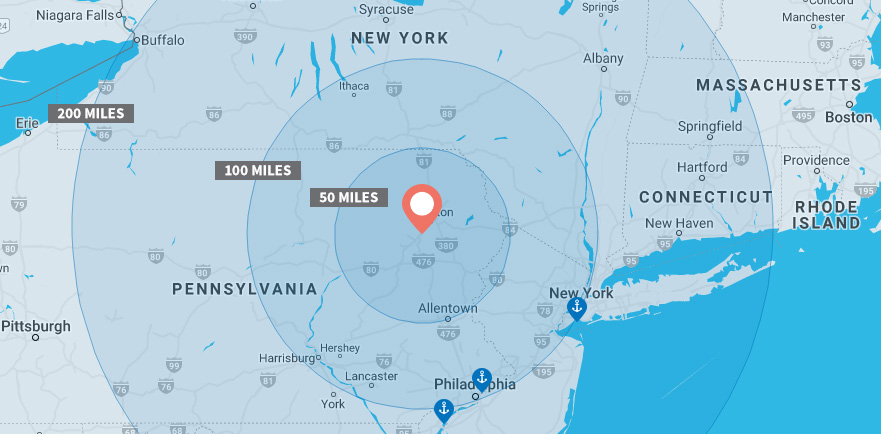 1. Strategic Location
I-81, I-80, I-84, I-380, and I-476 meet in NEPA.  I-78 is a short drive away.

NEPA is two hours from New York City and Philadelphia.

51 million people live within 200 miles.
2. Development Experience
Mericle was founded in Wilkes-Barre, PA in 1985.

We have developed 135 industrial, flex, office, and medical buildings in NEPA totaling 24 million SF.

More than 200 companies with 16,000+ employees occupy those buildings.

We are a vertically-integrated, "master builder" and self-perform all of our projects.

We employ 250 skilled professionals including architects, engineers, and craftsmen skilled in all of the building trades.

Our in-house Property Management Department will take care of your building and landscaping and is on call 24-7 to serve you in case of an emergency.
SOME MERICLE TENANTS AND CLIENTS
3. Great Selection
We have a wide range of existing industrial and flex spaces available from 6,000 SF to more than 500,000+ SF.

We have fully racked, Class A, bulk industrial space available.

We have constructed the majority of our 135 buildings on speculation and are always adding new space to our portfolio.

We own thousands of acres in NEPA for future spec and build-to-suit projects.  
4. Quick Occupancy
We are fast track experts and have never missed a tenant's occupancy deadline in our 35+ year history.

As a self-performing master builder, we cut out the subcontractors ("profit centers") that slow projects down and drive costs up.

We will customize an industrial space to your exact specifications in record time.
5. Quality Space
Hallmarks of Mericle space include:
High ceilings

Reinforced floors

Energy efficient lighting and heating

Wide column spacing

ESFR fire protection

Modern loading

Deep truck courts with dolly pads

Abundant employee and trailer parking
6. Strong, Reliable Utilities
All Mericle bulk industrial buildings are equipped with:
Fiber service

Up to 4000 amps of power

Municipal sanitary sewer

Natural gas heat

Strong water pressure (pressure reducers sometimes required)
7. Affordable Lease Rates
On average, Mericle bulk industrial lease rates are:

50% of average industrial lease rates in NJ

55% of average industrial lease rates in suburban Maryland

76% of average industrial rates in Philadelphia

and 87% of average industrial lease rates in the Lehigh Valley in PA
8. Lower Taxes
Annual industrial real estate taxes in NEPA are quite low, typically less than $0.75 per square foot.

Annual industrial real estate taxes in NEPA are about 50% of those in New Jersey.

Annual industrial real estate taxes in NEPA are about 60% of those in the Lehigh Valley.

Many Mericle available industrial buildings are in Local Economic Revitalization Tax Abatement (LERTA) zones and offer a 10-year, 100% real estate tax abatement on improvements.

A company that leases a 400,000 SF Mericle industrial building in a LERTA zone can be expected to save approximately $2.9 million in real estate taxes over 10 years.
9. Excess Capacity During Your Busy Seasons
Because we are always building on spec and adding to our portfolio, we have the capacity to provide you with overflow, month-to-month space during your peak, seasonal crunch times.

We can also provide you with short term, overflow trailer parking during peaks in your business
10. Additional Benefits
We have a large inventory of racking from past tenants that we will make available to you at no cost.

We will provide free architectural and engineering design services to you during your consideration of our buildings.

We will provide many services to help you find and train your employees.

Through our in-house, regional quality of life initiative DiscoverNEPA, we will help your key employees relocate to our area.
100-170 Patriot Drive
403,000 SF on 47.34 Acres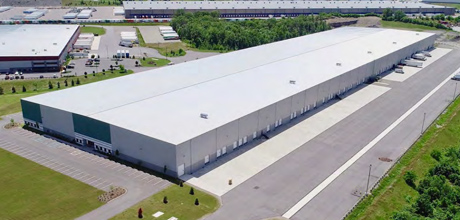 CenterPoint Commerce & Trade Park East, Pittston Township, PA
Expandable to 527,000 SF
47.34 Acres
Best Use: Industrial
Tax Abatement: LERTA (10 years, 100% on improvements)
Excellent access to I-81, I-476
All utilities
100-124 Capital Road
198,400 SF on 14.61 Acres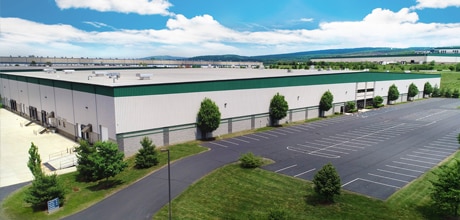 CenterPoint Commerce & Trade Park East, Jenkins Township, PA
Plug-n-play space with racking and conveyor available
14.61 Acres
Best Use: Industrial
Excellent access to I-81, I-476
All utilities
We will be pleased to prepare a customized lease proposal for you.  To start, just contact one of our leasing team vice presidents who will be glad to assist you.
East Mountain Corporate Center
100 Baltimore Drive
Wilkes-Barre, PA 18702
570.823.1100